Recipe Description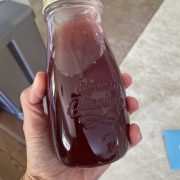 Joni McGary is a woman of many, many talents including crafting fantastic cocktails and even making from scratch the best cocktail cherry I've ever had. This is my second year receiving her brandied cherries in the mail and this time I was ready! Not only did I use the cherry to garnish this sublime Casino cocktail, but I used the juice they are preserved in as an ingredient in the drink itself–earning me another care package–this time a whole bottle of the juice! Can't call it a dirty martini with this luscious elixir–just have to add the descriptor "royale" because truly this is the nectar of the gods. (And given how very British Sacred is, it's only fitting to call the first James Bond book.)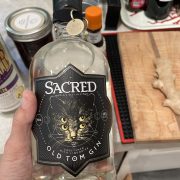 I'm posting this mostly to remind myself of the delightful moment I sat on the back porch and first tasted this lovely drink since it's highly unlikely Joni has enough brandied cherries to send you any, but I also think you could try it with luxardo syrup (the syrup luxardo cherries come in) — not too much — and if you do that, be sure not to leave the cherries exposed or they will go bad in the jar.
Ingredients
1 1/2 ounce Old Tom Gin


The original recipe calls for Hayman's cause that's all the Old Tom you could ever get --I actually really like that & it's not very expensive. It's essential for the Ramos Gin Fizz. But when you have Sacred anything use it lest you die with some still in the bottle which would be a true tragedy.

3/4 ounce Luxardo Maraschino Liqueur
1/2 ounce Fresh Lemon Juice
1 dash Angostura ORANGE Bitters


These are the orangiest bitters around! I love em! When i say dash, I mean daaaaasssshhhhhh.....

2 barspoons Joni's Brandied Cherry Juice


I think you could use one barspoon of the Luxardo Cherry syrup

1 Brandied Cherry


or Luxardo Cherry (Bada Bing Cherries will work too & they're way cheaper--oh, and I think the syrup is thinner so maybe you could use a little more)
Preparation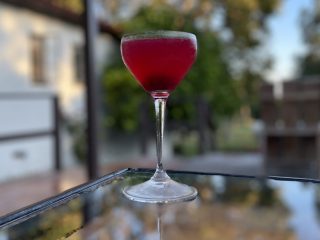 Put a Nick & Nora glass in the freezer or fill with ice and set aside to cool.
Put all ingredients except the cherry in a shaker filled with ice. Shake thoroughly.