Recipe Description
If you've been drinking Mai Tais with orange juice or pineapple juice in them, you don't know what you've been missing! A classic Mai Tai is not too sweet and is replete with layered flavors…and if the classic recipe isn't enough, there's a bonus option in this recipe…read on!
Ingredients
1 ounce light rum


Koloa is my all around favorite rum. They have a full line from white to aged. If you have some on hand, great, if not at least get a high quality rum for this essential ingredient. (Bacardi or Mount Gay should be fine.)

1 ounce dark rum


Nothing compares with Koloa Dark, but I must say, the eminently affordable Myers's makes a good drink as will most any high-quality dark rum.

1 ounce Fresh lime juice


Retain shell

1/2 ounce dry curaçao


Haven't discovered dry curaçao yet? Try it. You can usually use it anytime a drink calls for triple sec, Grand Marnier or even Cointreau.

1/2 ounce orgeat syrup


My favorite is El Guapo Bitters brand & on its label is this recipe--also my favorite. Orgeat is an almond simple syrup that is used for its unctuousness. I don't find it imparts much almond flavor though...that's why I sometimes...well...go to the bonus section below to find out what I sometimes do!

1 large mint sprig
Preparation
Put a double old fashioned glass in the freezer.
Combine first five ingredients plus the lime shell in a shaker with small or crushed ice and shake vigorously.
Service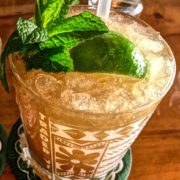 Remove glass from freezer. Dump entire contents of shaker into glass. Crush mint spring lightly with your hand and stuff into the top of the drink. (If you don't have small cubes or crushed ice, strain drink over a large ice cube highball style.)
*Bonus! If you love the aroma of almonds as much as I do, add a float of good amaretto. If you love good rum, add a float of high-quality aged rum. Here's how you float: hover a spoon concave side down over the drink in the glass and pour your float slowly over the back of the spoon so it cascades gently and evenly over the surface of the drink. Drink in that wonderful aroma before you drink in this wonderful drink!
Ke aloha!!