Recipe Description
Original recipes are fun to create, to imbibe and to share, but when I find a great cocktail recipe, I like to post it, not only to share, but for my own reference. I love having simple, great recipes always handy (ie, on my phone) for ideas, shopping lists and instructions. Hope this comes in handy for you too!
This drink is a go-to for me especially before a meal with an eastern flare. It originally appeared in shake, a great cocktail "cookbook" – perfect for a gift (which is how I got mine!)
Ingredients
6 ounces gin


Plymouth or any good London dry

4 teaspoons cane sugar


white granulated or raw/turbinado

1.5 ounes fresh lemon juice
6 slices fresh ginger
4 teaspoons pink peppercorns
4 leaves fresh basil
Preparation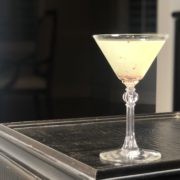 Put two coupes in the freezer.
In a shaker, muddle lemon juice, 4 slices of ginger, peppercorns, sugar and basil.
Add gin and lots of ice and shake vigorously.
Service
Strain into chilled coupes, garnish with remaining ginger slices.
Serve & enjoy!