Recipe Description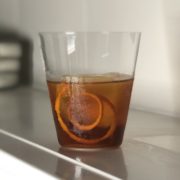 I just couldn't put my finger on it: I wanted something smooth and bourbon-y but not crazy boozy. The Manhattan and the Brooklyn are great, but my delicate constitution (ha ha!) can't always take the STRAIGHT BOOZE aftershock of those classics, yet I still wanted something sharp and silky at the same time.
As per the uzh, I cast about on the mighty web for ideas and one thing led to another. Maple syrup…bourbon…
Yes? Yes? then what happened??
Inspiration! Chocolate chili bitters to finish!!
I found that with the great Saladito (Monica-style, of course), the smokey taste of the Mezcal with the spicy finish of the cayenne worked great, so I used the smoked maple syrup that has been calling me from the fridge since last winter (yup! it lasted way longer than the simple syrups I have opened and tossed throughout the year!) and the new chocolate chili bitters my husband splurged on and we had a winner!!
As for the name…given the CHocolate CHili bitters And the Smoked Maple syrup…I had to go with a little acronym. A bit facile, but I think it works–especially in honor of a season named Fall!!!
Ingredients
2.5 ounces great bourbon


I used Blanton's...mm mm mm....

0.5 ounce Tippleman's Barrel Aged Smoked Maple Syrup


(any maple syrup will do...axe is also sublime--best maple syrup I've ever had--fantastic in cocktails)

3 generous dashes Miracle Mile Chocolate Chili Bitters
1 ribbon orange peel


totally optional...I would have preferred a Luxardo cherry but had none on hand--those pricey babies don't keep too long!! Bummer.
Preparation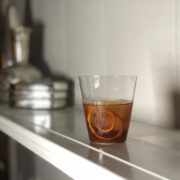 Be sure to have a giant ice cube on hand.
Put all ingredients in a shaker or glass with ice to the top of the liquid. STIR DO NOT SHAKE! Shaking will ruin a drink like this. Trust me–the bubbles you create will absolute destroy the smooth feel of the sip–you won't like it.
Service
Put the giant ice cube in a single old fashioned glass if you have one, or any rocks glass you have handy. Gently strain your cocktail over the cube & garnish as desired. This thing is DELISH!