Recipe Description
I thought I was finished with fall cocktails when I got my Thanksgiving edition of Bon Appétit and decided to try their pick for Thanksgiving cocktails. It involved applejack, which I wanted a bottle of anyway so I can try a pink lady for Valentine's Day. I splurged on a bottle of Laird's and I am at this very moment resisting the temptation to make a second one. This is one of those drinks that goes down TOO fast. HAPPY Thanksgiving!
Ingredients
2 ounces applejack


Laird's is great and not very expensive. (You could also use a nice rye.)

3/4 ounce fresh lemon juice


(If this is too tart for your tastes, bring it down to 1/2 ounce.)

1/2 ounce fresh orange juice
1/2 ounce maple syrup


Quality makes a huge difference. Best maple syrup I ever had was called Axe, but I think you can only get it at a store in Hollywood. Might be worth the trip.

2 dashes Angostura bitters
gratings nutmeg
Preparation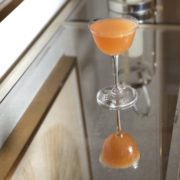 Put a sour glass (or similar) in the freezer.
Combine all ingredients except the nutmeg in a shaker with ice. Shake until very cold.
Service
Strain cocktail into chilled sour glass. Grate nutmeg over the top. Give thanks.