Recipe Description
Some combinations are meant for each other. The French say the best combination of all time is orange and chocolate, for example. Raspberry and lemon is another sublime flavor combination so naturally I looked for a gin cocktail with these flavors and found, of course, the Clover Club. The original is a bit strong for me–very gin forward! So I experimented with one a little more in line with the classic sour ratio which gets you to 2 parts gin to 1 part each raspberry syrup and fresh lemon juice (and of course an egg white), and I was pleased! It wasn't mind-altering but it was beautiful and delicious.
As is often the case, in flipping open my hand-written cocktail bible to record this latest discovery, I found I had an old recipe for the Clover Club in there already–but with a little something extra: 1/2 part St. Germaine. I really felt the drink needed another layer of flavor so I was delighted to find that the work on figuring it out had already been done. It was just what this cocktail needed!
Ingredients
2 ounces high quality gin


Sacred or Plymouth will be best - they don't have a ton of strong herbaceous flavors to compete with the raspberry as some gins would.

1 ounce fresh lemon juice
1 ounce raspberry syrup


Don't be intimidated! Combine in a saucepan 1 cup fresh raspberries, 1/2 cup granulated (white or raw) sugar, 1/2 cup water. Then: Simmer for ten minutes, stirring occasionally. Strain. Cool.

1/2 ounce St. Germaine


not critical but if you have it use it

1 fresh egg white
Preparation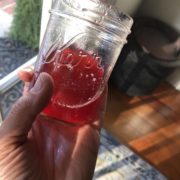 Put a sour glass or coupe in the freezer.
Combine all ingredients in a shaker WITHOUT ice. Shake 10-15 times to make the egg white creamy. Add ice. Shake thoroughly until very cold.