Recipe Description
I love blood oranges and I love Caged Heat ghost pepper simple syrup…put them together and you give one heck of a jolt to a whiskey sour. Blood orange juice is sweeter than lemon juice so you can't use as much of the syrup as you do in the original Caged Heat whiskey sour but it's delicious, beautiful and seasonal, so enjoy it when you can!
Ingredients
1.5 ounce bourbon


Eagle Rare is my preference here - hence the "bird" in the title

1 ounce blood orange juice


...the crimson

1/2 ounce fresh lemon juice
1/2 ounce Caged Heat Ghost Pepper Cocktail Syrup


...the cage

2 generous dashes Regan's Orange Bitters
Preparation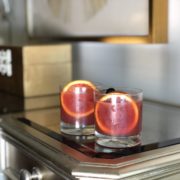 Combine all ingredients in a shaker with ice. Shake vigorously until cold.
If you prepare it with egg white, "dry shake" the ingredients (that is, without ice), then shake it with ice and serve it straight up, call it Ghost Blood and serve it for Halloween! Perf.
Service
Put a giant ice cube in a double old fashioned glass and strain cocktail over cube. Garnish with Luxardo cherry and blood orange wheel if desired.