Recipe Description
This cocktail is tricky to balance…I've tweaked it to just the way I like it, but feel free to adjust the brandy, syrup and lime elements to make it perfect for yourself, or check out the original recipe here to see how it was first conceived.
The liqueur in this is very special indeed. It's Douglas Fir Eau de Vie from Portland's Clear Creek Distillery and it might be meant to drink neat, but I love it in this exotic variation on the gin sour.
Ingredients
2 ounces gin


I like Plymouth for this one - it's very smooth and doesn't bring too many of its own flavors to compete with the fir and the cinnamon.

1 ounce cinnamon simple syrup


Toast 2 or 3 cinnamon sticks in a dry saucepan, separately Combine a half cup water and a half cup sugar, stir thoroughly and add to pan. Simmer for ten minutes or until the syrup takes on a vaguely cinnamon color and smells and tastes delicious! Let cool before using.

1 ounce fresh lime juice
1 ounce Douglas Fir Eau de Vie
dusting grated cinnamon


May also add a cinnamon stick for looks but it will get in the way and it's kind of expensive for a cosmetic-only garnish!
Preparation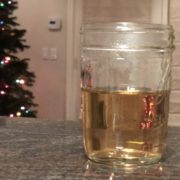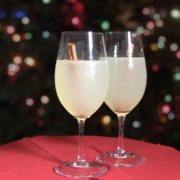 Put a glass in the freezer….I like a port glass to concentrate the nose but if you really use it for port it may be a bit tainted. Nick & Nora or similar will work fine.
Combine all ingredients except grated cinnamon in a shaker with ice and shake thoroughly.
Service
Strain into chilled glasses, grate or sprinkle cinnamon on top, sniff, sip & enjoy!