Recipe Description
Every year my husband has a conference in Hawaii around our wedding anniversary, so I tag along and we make a vacation of it. I don't confer, I just sit on the beach, read and wait for cocktail hour 🙂 The first time we went, we celebrated our anniversary at Spago at the Four Seasons in Maui. We never ponied up to actually stay at the hotel, but just overlooking its pool from the restaurant is a luxury. That's the time we discovered the Hawaiian Smile, fell in love with this simple yet beautiful cocktail & luckily procured the recipe from the friendly bartender.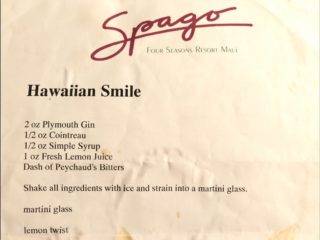 Some years later, my husband took my daughter to Hawaii instead (I don't know how she finagled that!!) and hubby texted me from the restaurant, "They don't have Hawaiian Smiles anymore and no one knows how to make one!!!!" I sprang into action, dug through my most beloved and well-worn recipes and voilà! The original Spago recipe for the Hawaiian Smile! (That's when I discovered I had tweaked it a tad…no worries…I never had one I didn't love!)
Ingredients
2 ounces Plymouth Gin
0.5 ounce Cointreau
0.5 ounce simple syrup
1 ounce lime juice


(the original recipe called for lemon--either will work)

2 hefty dashes Peychaud's Bitters
Preparation
Put a coupe or similar glass in the freezer.
Combine all ingredients in a shaker with ice. Shake very well.