Recipe Description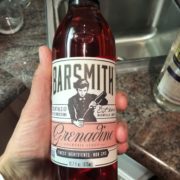 Looking for a red cocktail for Valentine's Day that isn't FROZEN or sickly sweet? This is a fabulous gin sour with applejack to add more edge and a little grenadine for a deceptively sweet color.
This recipe makes two, of course!
Ingredients
3 ounces Plymouth Gin or any London dry gin
1 ounce Laird's Applejack
1 ounce fresh lemon juice
1 ounce grenadine


or however much you need to get the color you want. For a redder cocktail, use Rose's, for a pinker (and better tasting) cocktail use Barsmith or any good craft brand.

1 or 2 egg white(s)


use less if desired, add a bit of heavy cream if it's not creamy enough--the cream will also add a slight, soft, almost vanilla finish that goes well with the applejack

1 splash heavy cream


Optional! (see above comment)...this will make the drink pinker, just fyi!
Preparation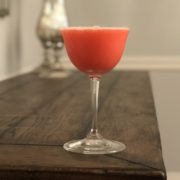 Put 2 sour glasses (or similar) in the freezer.
Combine all ingredients in a shaker without ice. Dry shake for creaminess. Add ice. Shake until cold.
Check out the difference in color! The Rose's grenadine makes a much redder drink…maybe use that (and no cream) for the Mrs. Claus (a Christmas drink) and use the better grenadine (and cream!) for a Valentine's Day Pink Lady.
Service
Remove glasses from freezer. Strain cocktail into glasses & enjoy the Valentine's spirit!