Recipe Description
My husband LOVES watermelon, BBQ and margaritas, and talked me into making a watermelon margarita for his pulled pork sandwiches. (Just seemed like a drink for someone who doesn't like drinks, ya know?) Well, I was sure happy I did it…that drink was just what we needed to ring in summer!
You have to get a little ahead of this one because the watermelon is frozen, but it's worth it!
Ingredients
4 cups cubed watermelon, frozen!


Make sure the watermelon is good and don't cut too close to the rind--we want the sweet stuff! Really freeze it!!!!

6 ounces good silver tequila


I used Herradura

3 ounces Cointreau


or any orange liqueur such as triple sec, Grand Marnier, dry Curaçao, etc.

4 ounces fresh lime juice
to taste agave syrup


or simple or demerara syrup...start with an ounce or two...wish I could be more precise but it depends on the sweetness of your watermelon--and your tastes

saucerful kosher salt and/or Tajin


I'll explain below....
Preparation
Cube watermelon and put in freezer for at least four hours or, better yet, overnight.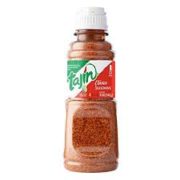 Rim two margarita glasses with lime then dip rim in salt and/or Tajin: one or the other, both side by side, or a mixture of the two all the way around. For me the Tajin MAKES THIS DRINK…I even sprinkled it in the glass first then on top as I drank it off the rim. If you don't know Tajin (I'm a new devotée)…it's a citric acid, chili powder concoction used on fruit like watermelon–squeeze lime on your fruit, sprinkle with Tajin and take it to a whole nother level (especially if the fruit isn't as good as you wish it was). So buy a bottle of Tajin–it's cheap enough & you'll use it!
In a blender (I use the Vitamix, you can also use a food processor probably), combine watermelon, tequila, Cointreau, lime, sweetener and a handful of ice and blend until just smooth. (If your watermelon wasn't frozen enough, you can throw in a handful of ice & blend until you can't hear the cubes against the blades at all.)