Recipe Description
I happened to be in LA when Kobe Bryant, his daughter Gianna, and seven others were killed in a helicopter crash there. The sadness hung in the air like it had real weight. Reading story after story about him, I became even sadder. Many who have tremendous talent take a little for themselves, delivering a lot but not 100%. Not Kobe–though not everyone loved him for it. He wasn't even old enough to sign his own contract when he was first drafted into the NBA and he married his high school student wife not too long after that–no prenup, FYI. He ran into trouble when he was accused of rape–he admitted being guilty of adultery, but the rape case fell apart (for good reason)–though in modern fashion, he is still, even posthumously, presumed guilty. His wife filed for divorce (she could have raked it in!) But he turned it around, got her back on board, had two more daughters with her (for a total of four, one of whom is still a baby), and he returned to the Church, even having been seen at mass shortly before the Sunday morning crash. This is all by way of saying, I was extremely moved by Kobe's complex story and saddened by his death. I wanted to toast him and his accomplishments–not the least of which were growth and redemption. So here is to the Black Mamba….
Ingredients
2 ounces Lot 40 Rye


It's excellent

3/4 ounce Nocino Walnut Liqueur


For a healthy serving of California (Kobe's chosen home)

1/4 ounce Luxardo Maraschino Liqueur


For a touch of Italy (Kobe grew up in Italy!)

1/4 ounce syrup


Either from the syrup Armenian green walnuts are preserved in (they are worth tracking down--a bit of a transplant to California as well) or from a jar of Luxardo cherries (easier to find but expensive!), or best yet, use my spiced brown sugar syrup (I use this in many recipes so make a batch - you'll use it all!)

2 dashes Fee Brothers Black Walnut Bitters


Or similar

1 preserved walnut or Luxardo cherry


For garnish
Preparation
Put an old fashioned glass* in the freezer.
Combine all ingredients in a large glass or shaker with ice and STIR until cold.
Service
Strain drink over a rock into glass. Garnish.
Saluti!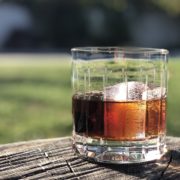 *When I was in Los Angeles recently–by a sad coincidence, the weekend Kobe Bryant, his daughter & seven others were killed in a helicopter crash there–I happened into a beautiful and elegant store called Port O' Call in San Marino outside of LA. Naturally, I can't help but admire beautiful glasses and imagine what they would look like with one of my delicious cocktails in them! JD, the proprietor of the shop, sensed my enthusiasm so we got to talking and he offered to lend me (even ship me!) a special glass or two on occasion if I have a very special drink to use it for. Given that I was moved to create a drink in honor of Kobe Bryant, I thought it only apropos that I take up the offer of my new LA friend. This is JD's his glass. I hope I've done it–& Kobe–justice!