Recipe Description
Depth of flavor, a sweet-spice finish and that robust bourbon kick makes this far-cry-from-a-traditional-whiskey-sour a hit with the entire spectrum of holiday guests.
Ingredients
1.5 ounces kentucky bourbon


Your favorite high-end whiskey will work - I always use Eagle Rare for mixed whiskey drinks.

0.5 ounce dry curaçao


If you're not familiar with this liqueur go out and get yourself some. It's in the family of cointreau, grand marnier, triple sec, etc. and I often experiment with dry curaçao in recipes that call for one of these other citrus liqueurs--especially if my bar stock is low on them!

0.5 ounce fresh lemon juice
0.75 ounce spiced brown sugar syrup


Too much of this stuff would make this cocktail too sweet, but it adds such a delicious finish and depth of flavor it can't be left out.

1 ounce clementine orange juice


Juicing a clementine is like milking a cat! They don't yield much but you can probably get an ounce or more from each fruit.

1 clementine peel ribbon


Make your ribbons before you juice the fruit -- trust me! You can also just use a peeler and make a fat peel but it's not as elegant.

splash amaretto


Less than a tablespoon per glass will be plenty--you use it as a wash before you pour the drink.

1-2 dashes angostura (or similar) bitters
Preparation
Put coupe glass in freezer.
Combine bourbon, dry curaçao, spiced brown sugar syrup, clementine juice, lemon juice and bitters in a shaker with ice, shake thoroughly.
A note on making this for a party: mix all ingredients except the amaretto and the peel in a pitcher with a cap on it. Don't do this too far in advance (an hour or two is fine) and don't refrigerate it. At service time, fill a shaker with ice, shake up your pre-made mixture and pour the mixture to the top of the ice. Shake thoroughly. This should be enough for two or three drinks.
Remove glass from freezer, pour a splash of amaretto in the glass and swirl it until the inside of the glass is thoroughly coated. (If there's extra amaretto in the glass just leave it–it's delicious!) Strain the chilled cocktail into the glass and garnish with orange peel if desired.
Service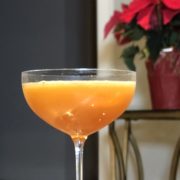 Serve the Clementine Sour in a coupe for the soft festive appearance reminiscent of champagne in the Belle Epoque era. For a party, you can tie a Christmas present tag with a red curly ribbon onto the stem of the glass with the guest's name on it so glasses don't get mixed up–makes a sweet decorative touch as well.
These drinks should be small and cold. For a party, you can expect two per person max, discounted for non-drinkers and lightweights, of course.