Recipe Description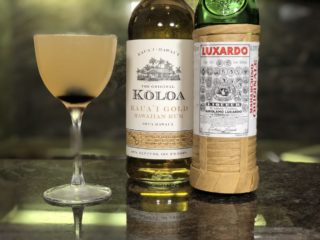 Created at El Floridito in Cuba, an Ernest Hemingway haunt, Hemingway himself (a no-nonsense drink-to-get-drunk drinker by all accounts) is not likely to have preferred this complex and fruity cocktail–but I sure do!
According to Dylan Garret, Hemingway preferred the more appropriately eponymous and no-doubt awful Papa Doble: "four ounces of rum with only a splash of lime, blended so cold that it couldn't be tasted going down."
Ingredients
1-1/2 ounces Light, gold rum


10 Cane, Mount Gay Eclipse, or Koloa Gold are suggested.

1/2 ounce Luxardo Maraschino Originale
1 ounce Grapefruit juice


Fresh squeezed juice is traditional and ideal.

1/2 ounce Lime juice


Fresh squeezed juice is traditional and ideal.

1/2 ounce Simple syrup


Use demerara syrup for a richer taste.

Garnish Maraschino cherry
Garnish Lime slice
Preparation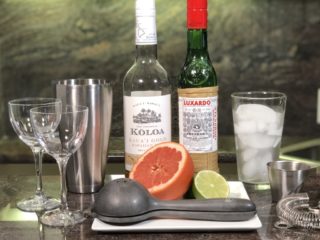 To make the simple syrup combine equal parts water and sugar (white granulated sugar or, for this drink, raw turbinado sugar) in a microwave safe container — I use a glass measuring cup because I don't like to put plastic in the microwave. Stir and microwave until totally dissolved, about 1 to 2 minutes. Remove from microwave and let stand until room temperature.
You can store the unused portion in the refrigerator for up to several weeks. The less air there is in the storage container with the syrup, the longer it will last. If you are in a hurry, take an ounce or two of the hot syrup and cool it down in the freezer. This recipe uses such a small amount of simple syrup that if it's not 100% cooled down, it won't be the end of the world. But do not use it hot under any circumstances, that will really water down the drink when it hits the ice in the shaker.
In a cocktail shaker, combine all ingredients (except for the garnish) with plenty of ice. Shake thoroughly until very cold. Strain into a chilled glass.
Service
Prior to preparation put a Nick & Nora glass or a coupé in the freezer to chill.
Serve in chilled Nick & Nora glass or coupé. Garnish with a maraschino cherry and a slice of lime.