Recipe Description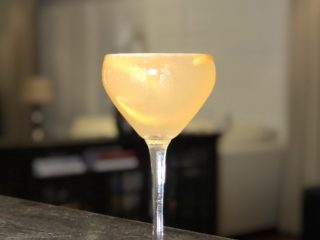 Necessity might be the mother of invention, but "what's handy" is at least its aunt.
I wanted to use up a grapefruit and was also in the mood for something different. Surfing a few waves on the interwebs, I found that elderflower and grapefruit was a tried and true combination–I was surprised by that! I was also surprised by how sweet it was to make the standard recipes combining gin, grapefruit and St. Germaine–and not in a great Honeymooners kind of way, more of a cloying Brimstone & Treacle kind of way. I think of grapefruit as bitter rather than sweet, but it really is pretty sweet underneath it all I guess.
That's where the lemon juice comes in. As a general rule, if your cocktail is too sweet try lemon juice first thing (lime juice should also work–go with your gut–or what you have on hand!) I had lemon on hand (that's what my gut told me too) and it worked like a charm! All that was left was naming it. I went for a portmanteau of pamplemousse (French for grapefruit) and fleur de sureau (French for elderflower). Although I'm using English gin, I'm also using St. Germain…and hey, maybe one of the well-reputed French gins would work in this! I'll try one next time I have it handy 🙂
Ingredients
5 1/2 ounces Plymouth Gin or any London dry gin
2.5 ounces St Germaine elderflower liqueur
2.5 ounces grapefruit juice (fresh squeezed)
1.5 ounces lemon juice (fresh squeezed)


2 dashes orange bitters
2 ribbons grapefruit peel


optional...BUT I bet a basil leaf would be PERFECT in this...something about the finish just screams BASIL but I don't have any on hand so I can't prove out my instincts--maybe you will!!
Preparation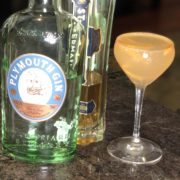 Put two Nick & Nora or similar glasses in the freezer (with ribbons if using).
Shake all ingredients thoroughly with ice.
Service
Remove glasses from freezer.
Strain cocktail into glasses.