Recipe Description
Like a gimlet, a daiquiri is just good booze, lime juice and simple syrup. Emphasis on the good booze. In my mind, the best way to use good booze if not straight up is in a simple gimlet, daiquiri, tom & jerry…just booze with fresh citrus and simple syrup in descending order of volume.  And for a tropical flavor that really elevates this cocktail to an everyone-loves-it go-to, use Koloa Coconut Rum…this preparation really does that fine spirit justice.
Ingredients
5 ounces Koloa Coconut or any very high quality white rum


a low-end rum will not work--you won't get to the bottom of the glass.

2.5 ounces fresh lime juice
1.5 ounces simple syrup


1:1 sugar to water, stirred, microwaved and stirred again. The sugar should be fully dissolved and the liquid clear.
Preparation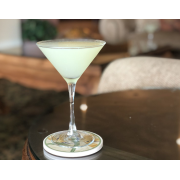 Put two Nick & Nora, coupé or martini glasses in the freezer.
Combine all ingredients in a shaker with ice. Shake vigorously.
Service
Strain chilled cocktails into cold glasses. Find a quiet place to sit and really focus on this truly simple but sublime drink.