Recipe Description
A couple of special liqueurs make this cocktail fantastic but may require some planning ahead. You'll want to make this Thanksgiving weekend to get everyone in the Christmas spirit–and then you'll want to make it every weekend after that as well!
Ingredients
1.5 ounces London dry gin


This might be a job for Plymouth if you want the other flavors to shine. If you want to emphasizes the extreme herbaceousness of the Zirbenz you might try Nolet's if you have it around. That's my favorite for an aviation cocktail, for example.

3/4 ounce Zirbenz Stone Pine Liqueur


This is the one you're going to want to get ahead of!

3/4 ounce Velvet Falernum


You might want to adjust this ingredient for sweetness. It's so delicious but it is a sweetener. (I am in love with this stuff--it's dangerous!)

3/4 ounce fresh lemon juice
3 drops orange blossom water


In a blind taste test could I figure out if this was missing--I'm not sure--but it may be true that two or three sips in I have a subconscious little "mm-mm-mm" moment when it's there.

sprig rosemary


for garnish
Preparation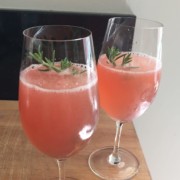 Put a port wine glass in the freezer. (Any small cocktail glass will do, but I love the way this narrower glass concentrates the nose on this highly aromatic cocktail.)
Shake all ingredients very well with ice until cold.
Service
Strain chilled cocktail into cold glass. Garnish with rosemary. Enjoy. (That last thing is not an instruction, it's an inevitability.)