Recipe Description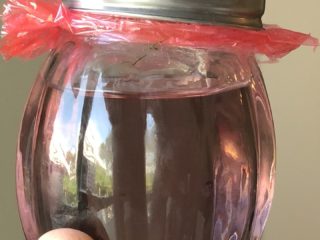 Walking down the street in Newport, Rhode Island, recently, I noticed a beautiful house with even more beautiful lavender bushes in front…they called to me! Later that day, I circled back and saw a man sitting on the porch. It was Mike, the home-owner. I told him how I wanted to take a few branches of his lavender, make some syrup* with it and share the syrup with him…he eagerly agreed! The syrup turned out to be perfect.
*Equal parts lavender flowers, granulated sugar (white or raw) and water, simmered for 10 minutes. Strain and cool.
With this lovely syrup, I made both a gimlet and a rickey. The gimlet, I made with Roku Gin, and later I made a rickey with Plymouth. With the Roku, I just had to sit quietly and contemplate each sip. It was sublime. The rickey with the low-profile Plymouth, however, was a surprise. Every time I took a sip, it hit me: "Wow! That's great!" Hope you have the same reaction!
Ingredients
5 ounces Roku Gin


Plymouth or Sacred will also do.

2.5 ounces fresh lime juice
1.5 ounces lavender simple syrup*


or an ounce more for more flavor, especially in the Rickey
Preparation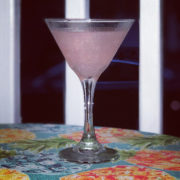 Put two coupes, martini glasses or similar in the freezer.
Combine gin, lime and syrup in a shaker with ice.