Recipe Description
A Czech friend brought me a bottle of Becherovka for Thanksgiving. I'd heard of it before and knew you could do interesting stuff with it so I was excited! We tried it straight and it for sure had a grappa-like quality. That's a sipping drink for after dinner, no doubt, and I liked it, but I wanted to have some fun with it and serve it before Christmas dinner. I took a chance that my favorite holiday specialty ingredient–spiced brown sugar syrup–would work with this unique spirit and boy did it! I cut it with lemon juice and it was a huge hit–we finished the entire bottle before dinner! (Granted, this drink isn't very strong and there were 6 of us, but still–a huge hit!)
This recipe makes two but this drinks lends itself to bigger batches, just fyi.
Ingredients
5 ounces Becherovka
2.5 ounces fresh lemon juice
1.5 ounces spiced brown sugar syrup


(see recipe)
Preparation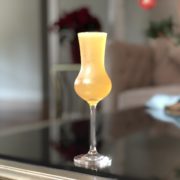 Put two glasses in the freezer. I used grappa glasses, though really just for the novelty–this is probably better in Nick & Nora glasses.
Combine all ingredients in a shaker with ice. Shake vigorously until very cold.
Service
Strain cocktails into chilled glasses and toast your health! Na zdraví!