Recipe Description
I try not simply to republish the recipes of others, but there is no improving this simple, creamy Christmas drink, so here is the original recipe.
I must admit, I do sometimes add a little more amaretto and even a splash of the always-delicious spiced brown sugar syrup, but too much fiddling throws this cocktail off balance both because one egg doesn't go further than one drink in a flip, and because the bite of the cinnamon whiskey* is essential to keeping this drink from being cloyingly unctuous or too much like dessert.
Ingredients
2 ounces cinnamon whiskey


(see recipe*)

1/2 ounce amaretto
1 egg


a whole egg is what makes a flip a flip!

grated nutmeg
Preparation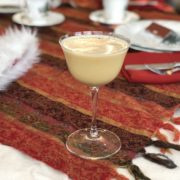 Combine all ingredients other than grated nutmeg in a shaker and shake vigorously without ice. Add ice and shake vigorously again until cold.
Service
Strain cocktail into cocktail glass and top with grated nutmeg.
Ho! Ho! Ho!