Recipe Description
A fantastic bourbon drink somehow reminiscent of a Hemingway (though with only lime juice in common), the Lion's Tail goes way back – maybe even a hundred years! Over that time, several variations have emerged but the original appeared in a London bar-tending book despite the fact that the expression seems to have been related to American anglophobia between the world wars.
This recipe recently appeared in liquor.com, but tweak the ingredients to your taste–every recipe seems to be different…
*A note on St. Elizabeth Allspice Dram (also called pimento dram)…I try not to have too many specialty liqueurs around–they take up space and don't often get used–unless they do. There are a few go-tos I like to stock & I will try always to post a few recipes using the same specialty ingredients so you get some variety and it doesn't sit around getting your cupboard sticky. For example, St. Elizabeth Allspice Dram is also in one of my other Christmas favorites, the Caribbean Christmas. Two other good-to-stock specialty liqueurs are John D. Taylor Velvet Falernum (Royal Bermuda Yacht Club Cocktail, Caribbean Christmas, Wood in the Fire) and St. Germaine Elderflower Liqueur (Long Live the Queen, Pamplereau).
Ingredients
2 ounces great bourbon


I used Blanton's, which I'm pretty sure is a sin...but it was so good...so, so good...

1/2 ounce fresh lime juice


like the two ounces of bourbon, this is one measure all the recipes agree on: half an ounce of lime juice

1/2 ounce St. Elizabeth Allspice Dram


3/4 ounce also an option

1/2 ounce simple syrup


or clear sugar cane syrup...less is also an option

4 dashes Angustora bitters


I was surprised to see such a healthy dose of bitters--I'm a big fan of healthy doses of bitters! But some recipes do call for the normal "dash" rather than the 4 dashes I use--and prefer

1 piece orange peel


for expression oil onto the top of the drink
Preparation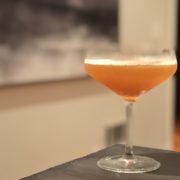 Put a coupe or similar in the freezer.
Combine all ingredients except the orange peel in a shaker with ice. Shake vigorously until cold.
Some recipes call for an egg white. If you want to use an egg white, shake all ingredients (except peel) vigorously WITHOUT ICE. Then add ice and shake again.
Service
Strain cocktail into cold glass. Twist orange peel over cocktail to express oil. I like to then rub the oil on the rim and drop the peel into the glass for garnish, but that's optional.